The equipment used is a Celestron C5+ (12.5cm Schmidt-Cassegrain) which is fitted to an Vixen Great Polaris (GP) mount. For controlling the telescope a Vixen SkySensor 2000PC is used. For imaging a Sony PC100 video camera is fitted to the telescope for afocal imaging using a modified Orion tele-extender.
Eyepieces used are:
40mm and 25mm Plössel
12mm and 5mm Celestron Ultima
A Celestron stardiagonal is also used for viewing
Software for controlling the telescope through the SkySensor is SkyMap Pro 6.
For image processing the Astrostack by Robert Stekelenburg are used.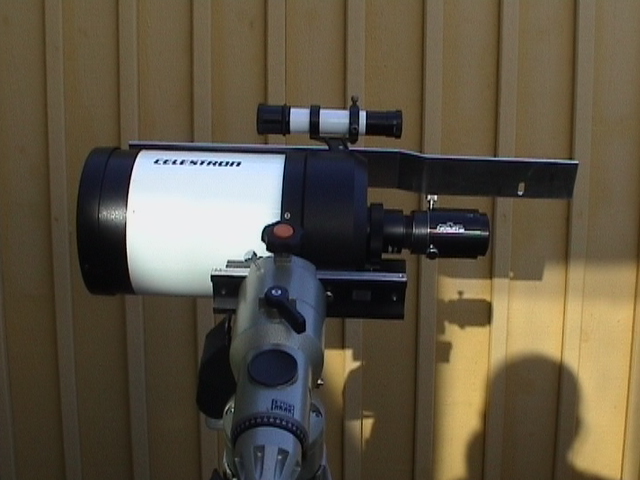 The C5+ set up for astrovideo. A modified 37mm to T-thread adapter from CKC_Power is used for attaching the PC100 to the eyepiece. The bracket is used for securing the camera to the piggyback platform.
Amateur Astronomy
My equipment